Facilitation of planning days
Eve will design and facilitate a wide range of workshops – tailored to each client's needs. Whether it be 1-2 hours or 1-2 days, ask Eve to design and deliver an interactive program to enthuse your people and build practical skills.
Email An Enquiry
What our clients say
Eve Ash is an extraordinary businesswoman and exceptional public speaker. Her education and experience as both a psychologist and training producer/practitioner coupled with her reputation in the training & development industry at large provide speak volumes about her credibility and impact on behavior change. If you are seeking a highly dynamic and enthusiastic speaker–someone who brings both depth and breadth to a presentation along with humor, I highly recommend you consider Eve Ash.
I've been working with Eve Ash for over 10 years and find her to be extremely knowledgeable, enthusiastic and an inspiration to all. Eve inspires audiences to greater self-awareness and openness to change. Her humor, insight and delivery style both motivates and engages her audience. Eve is quite possibly the most driven and prolific training video producer I know, with over 600 video titles created to-date. She is an outstanding presenter and MC to both large and small groups. We received only positive feedback from Eve's multiple appearances as keynote speaker at previous BizLibrary ALIGN client conferences.
It takes a unique combination of skills to engage an online audience – even more so when there are participants literally from around the world. Eve exudes a very comfortable presence and is adept at delivering a subtle mix of education and entertainment; she is an all-around superb speaker… Eve is a gem to work with
Eve was absolutely fantastic, engaging, professional, humorous… staff loved her.
Eve is a regular MC at conferences and events where her combination business knowledge, fun activities, video clips and humour, blend together to make each event a unique triumph! Her client focus and meeting of needs is second to none.
Eve Ash is an extraordinary businesswoman and exceptional public speaker... If you are seeking a highly dynamic and enthusiastic speaker–someone who brings both depth and breadth to a presentation along with humor, I highly recommend you consider Eve Ash.
Eve was the most helpful MC I have ever worked with... Eve inspired, entertained and motivated… If you are looking for a business minded women with the ability to influence people's minds then look no further.
Symposium on Miscarriages of Justice
2017 Nov 24th - 25th, Centre for Crime Policy & Research, Flinders University, Adelaide
Unjust imprisonment is a crime against humanity
Eve spoke about the Psychology of Wrongful Convictions at the Second Symposium of Miscarriages of Justice in Adelaide.
After eight years working on Sue Neill-Fraser's case, Eve discussed the emotional costs to victims of injustice, friends and family, pro-bono legal teams and justice hunters seeking the truth. Eve explained how tunnel vision is contagious and leads to cascading errors, bias, inferior police investigations, lost leads, mistakes taken for facts and problematic court cases. Eve hope to improve our justice system through education and scrutiny.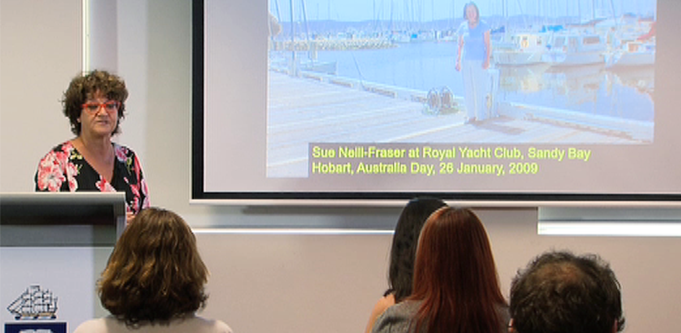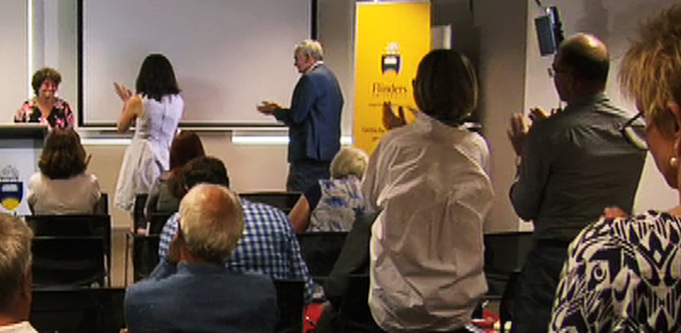 On Overnights with Trevor Chappell
Broadcast: Wed 20 Sep 2017, 5:00am
Duration: 29min 44sec
The idea of dating someone significantly older, or younger, than you still raises eyebrows. For example, the obsession with the 25 year age gap between French president Emmanuel Macron, 39, and his wife Brigitte Trogneux, 64. Or Hugh Jackman and Deborah Lee-Furness [13 year gap]. Michael Douglas and Catherine Zeta-Jones [25 year gap]. Trevor is joined by psychologist Eve Ash.
An intensive 2 Day Workshop
2017 Sep 13th - 14th, Meritus Mandarin, Singapore
2017 Sep 11th - 12th, Sinapore - MIT Alliance for Resarch and Technology (SMART) Centrex, Singapore
2016, Sep 29th - 30th, Pan Pacific Orchard Hotel, Singapore
Day 1
Best Practice: 7 Essential Leadership Skills
Create winning mindsets to achieve goals
Advanced communication skills for managers
How to select the best people for your team
Day 2
Build a culture for high performance
Coaching and the art of feedback
Plan, prioritise and complete
My leadership plan of action
Learning Methodology
This workshop is designed to give participants skills to be confident in managing people and performance. You will be taken through a series of stages:
Understand essential leadership skills
Self-awareness and winning mindsets
Communication skills for managing people
Selecting and building a high performing team
Managing yourself and team for optimal performance
Confidence to continue to develop self and others
This interactive program provides techniques for new and experienced managers to use when managing a small or large team. This powerful toolkit of people management skills will provide specific skills for immediate application back at work. Participants will learn techniques, see them in action and complete a number of activities, role-plays and skill building exercises.
Skill Development
Develop leadership expertise and confidence to inspire your people
Managers and leaders with small or large teams, working face-to-face or managing staff virtuall
Experienced managers wanting to enhance their leadership skills to a new level of excellence
New managers who must hit the ground running with skills and confidence
Anyone who must fast track their people management skills and ensure a productive team
Change champions who must lead others through improvements, challenges, and tough times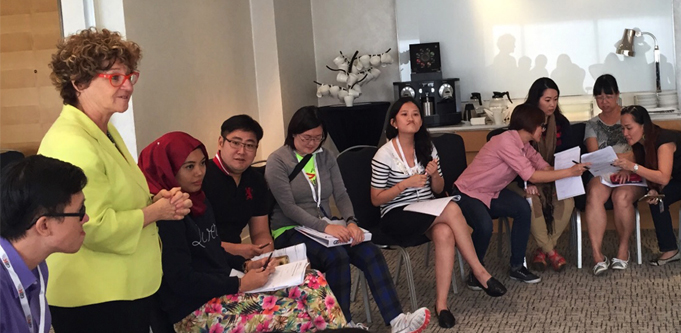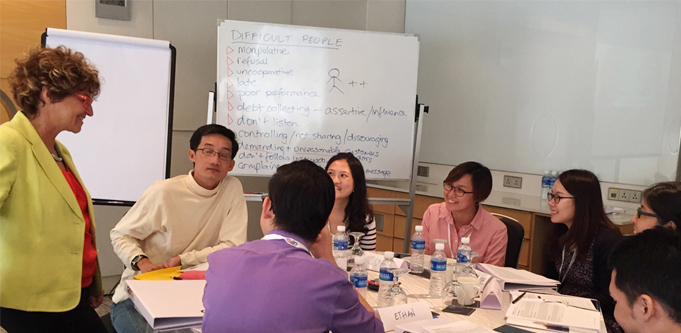 "

Very much enjoyed the program. People felt comfortable to share and engage."
Loved it! Wish it was longer! "
Amazing! I had really been looking fwd to such a workshop! Eve was a very good coach!"
Super friendly and open to questions – you are amazing Eve Ash!"
Awesome, the best on a leadership course."
Very effective. I didn't feel lost at any point during the 2-day workshop, which is a big thing!"
On Overnights with Lisa Pellegrino
Broadcast: Thu 16 Feb 2017, 2:00am
Duration: 36min 22sec
What do you do when you get a 'gut feeling' - whether it's about a person, an event or a place, maybe a situation when you feel things are not quite right? Can you trust that 'inner voice'? Should you act on this? Lisa discussed this with psychologist and author Eve Ash.
On Overnights with Lisa Pellegrino
Broadcast: Thu 10 Aug 2017, 2:01am
Duration: 29min 10sec
The family that works together stays together. Having a relationship with a colleague can lead to complications that ordinary couples don't face. Trevor Chappell talks to psychologist Eve Ash about the advantages and the pitfalls of getting involved with someone from work.
An intensive 2 Day Workshop
2016 Sep 26th & 27th, Pan Pacific Orchard Hotel, Singapore
2015 Oct 1st - 2nd, Hilton Singapore
Day 1
Understanding difficult people and causes of conflict
Self awareness and mindset management
Communication skills for handling complainers
How to handle difficult co-workers and managers
Day 2
Managing aggression and abuse
Skills for resolving and mediating conflicts
Being a calm champion of communication
My plan of action for future development
Learning Methodology
This workshop is designed to give participants skills to be confident in a wide range of difficult people situations. You will be taken through a series of stages:
Problem clarity
Self-awareness and thinking patterns
Communication skills for complaints
Advanced skills for feedback and conflict
Challenge scenarios and skill building
Confidence to handle difficult people & situation
This interactive program provides techniques for everyone to use when dealing with challenging people and situations. This powerful toolkit of people skills will provide specific skills for immediate application back at work. Participants will learn techniques, see them in action and complete a number of activities, role-plays and skill building exercises.
Skill Development
Develop skills and confidence to handle difficult customers and colleagues
Many people are challenged and uncomfortable dealing with difficult staff or customers. It's normal! But lacking skills can hold you back from being a great service provider or a top leader. This workshop is a unique opportunity to develop skills for dealing with people problems at work.
Learn skills to become an effective communicator with difficult people
Develop powerful skills to deal with negativity, complaints and arguments, whether it be angry customers, moody colleagues, overbearing associates, manipulative personalities or uncooperative people.
Turn negativity into productivity!
Build confidence and skills to manage a wide range of difficult people and problem situations
Create a consistent approach to handling abusive people
Learn a range of practical techniques to manage conflict and maintain a high level of customer service
Practice techniques to respond calmly and professionally even when customers, coworkers or managers are stubborn, emotional or aggressive.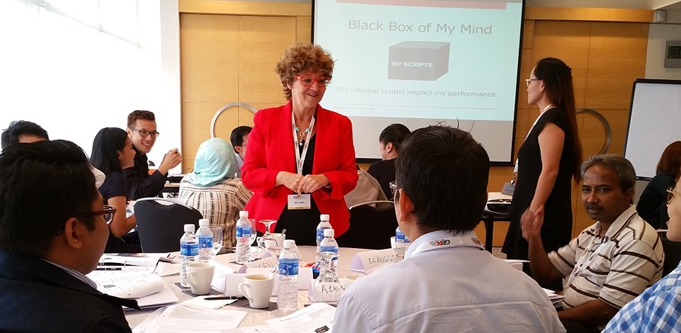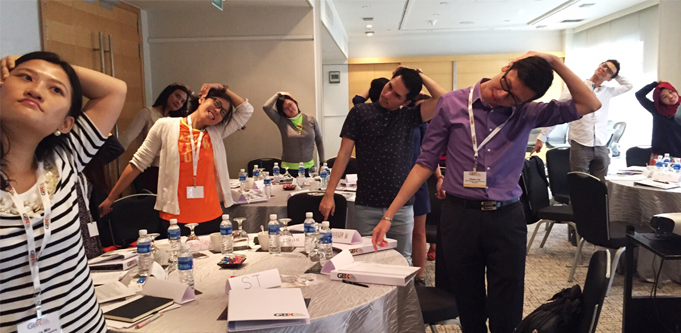 "

This is a vital course that taught not only tactics to deal with others but also to look at oneself"
Interesting and interactive with roleplays."
Lots of fun and laughter"
Inspiring and very motivating. I love the course and will be able to apply to everyday life"
Eve is a role model and inspiration"
Lively and very engaging"
Step by step approach. Funny videos, really engaging and educating"
A very good and concise program to handle interpersonal relationships, both on a personal and work basis"
BizLibrary Webinar
2016 June 15th, 1pm Central/2pm Eastern
Great leaders continue to learn and develop their skills throughout their careers. The problem is many of us hold ourselves back. It's time to be challenged and to challenge your team.
This webinar is an ideal opportunity to sharpen your mind with Psychologist and Behavior Expert, Eve Ash. You'll learn a unique psychological approach to otivation and success.
Key Learning Objectives
Discover the 2 key attitudes for success and the impact of personal scripts on performance and potential
Discover how to develop and use a winning mindset so everyone at your organization achieves goals.
Overcome the 3 top fears that cause people to sabotage their own performance and remain stuck in their career
Find out how to use "Lands of W" to improve team communication
Learn the proven 4 step formula for achieving your goals
Gain confidence in presenting your vision, plans, decisions and ideas
Explain, clarify and influence with action oriented communication
CLANT – 15th biennial Bali Conference
2015 Jun 20th - 26th, Bali
"JUSTICE HUNTERS: A strategy for change"
Eve's presentation will introduce the case study about Sue NeillFraser and will cover the challenges making the feature documentary Shadow of Doubt, which investigates this wrongful conviction. Eve spent four years researching and talking with family and friends, the police and lawyers. She wanted to understand why a jury would be convinced beyond reasonable doubt that Sue was guilty when there was so much doubt. Too many people are driven by a desire to judge and convict vs solve crimes and discover the truth, as Eve found out first hand when investigating and filming the Sue NeillFraser case, then working with lawyer and former Asst Police Commissioner, Barbara Etter. Why are people so eager to judge, even in speculative circumstantial cases? And then go on to stand by their work when it is found to be erroneous? What is the psychology behind this?
Shadow of Doubt raises important questions about the way the crime was investigated, problems with witnesses, how the media was used to shape perceptions, and the shocking mistakes and omissions.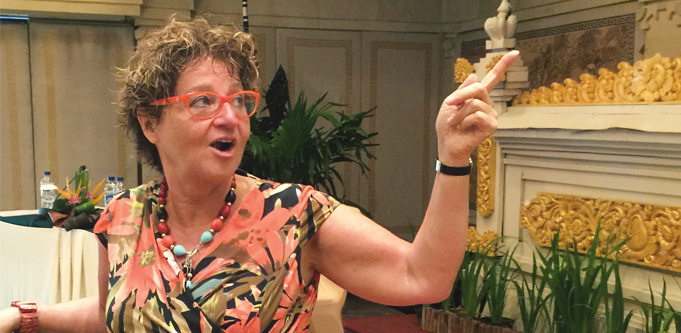 BizLibrary Webinar
Webinar Description
Do you feel like you are always short of time?
Why do we get so stressed at work?
What can we do to maintain a healthy mindset to ensure we are successful?
Motivational Psychologist, Eve Ash will explain how we are continually adding to our stress, how we are 'timepoor' obsessed, and how we have linked unhelpful thinking patterns to our behaviors. Whilst we may recognize some of our own undoing, we tend to stay in state of denial and accept that this is how life is – stressful!
Discover helpful strategies you can implement right now to break some faulty thinking habits that may be holding you back, and create a 'reboot' so you can start a new era of personal power and control. Learn how to impact the culture of your team so they are less stressed.
Key Learning Objectives
Learn 5 key ways to immediately improve your time management and feel less stressed.
Identify the link between your negative thinking patterns – 'scripts' – and your personal and team behaviors.
How to edit and change the way you think and behave, to be more successful and healthy.
At the start of the webinar, participants were asked
How do you feel about the future?
Response BEFORE the webinar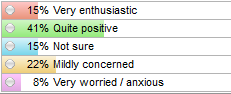 Response AFTER the webinar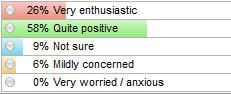 "

I LOVED Eve's accent and would like to thank the teacher who discouraged her because it motivated her to do just what she was created to do!"
Presenter was well spoken, knows & understands the topic well, and easy to listen to."
Great presentation. Enjoyed the speaker and the suggestions she provided for the scripts."
The presenter was excellent and very knowledgeable in the topic presented, I highly enjoyed it and would recommend it to anyone."
I thought Eve was fantastic, and wish more companies and individuals could hear what she has to say and take away the wisdom she so eloquently and effectively shares. I am also interested to know more about how gratitude and specific kinds of playful fun can be successfully integrated into a professional working environment that is very, very conservative and often negative with a culture of fear and stress. Anything helpful is most appreciated in this!"
On Overnights with Trevor Chappell
Broadcast: Sun 17 Jan 2016, 9:00am
Duration: 48sec
If you've got a fear of public speaking, well you're not alone. Many people list public speaking as their greatest fear - ahead of dying! Motivational Psychologist and Speaker, Eve Ash, joins Tim Brunero to give some tips on how you can be at your best when speaking publicly.
This popular interactive program will inspire new administrators and those wanting to improve their management and supervision skills. It covers essential leadership and performance management skills including how to motivate your team, manage performance through goal setting, coaching, and giving and receiving feedback. Case studies and practical examples will be used to demonstrate how to manage difficult people and conflict situations. Participants will gain insights into being assertive and successful, even under pressure and with competing demands.
It covers:
Essential leadership skills
Building a powerful culture of engagement
Managing performance though goal setting
Motivating and inspiring your team to high performance
Coaching, and giving and receiving feedback
Managing conflict situations and mediating disputes
Being assertive and successful under pressure with competing demands
A seminar to improve presentation skills and develop style:
Identifying five key factors to engage your audience
Developing three techniques to make presentations more stimulating
Changing your anxiety and fear 'scripts' into a positive mindset
Understanding how your body language and movement affects the audience
Exploring creative openers and closers for best impact
An interactive program for senior managers with case studies to build and develop skills and strategies to get best performance:
Gaining commitment to best performance
Motivating teams to high performance
Career conversations
Best practice in creating a positive feedback culture
Effective skills for giving and receiving feedback
Dealing with poor performers and managing difficult people
Managing and challenging high achievers
Interactive case studies and activities to cover:
Preparing and presenting your business case to achieve a positive outcome
Presenting to individuals and groups in minimum time with maximum impact
How to build and use strategic alliances
Managing and facilitating senior meetings so they are always effective
Overcoming roadblocks and challenges to success, and managing changes midway
Essential steps to effectively brief a consultant
Negotiating with clients, suppliers, contractors and other stakeholders
A program for managers to build and develop behavioral interviewing skills:
Understanding behavioral interviewing
Analyzing interviews and the effectiveness of questions
Competencies, characteristics and criteria
Assessing various behavioral questions
Probing questions and skills
Creating and implementing behavioral questions
Reference checks using behavioral interviews for referees
For anyone who needs to present and influence others – one to one or in groups. Join Psychologist Eve Ash and discover simple and effective strategies for presenting. Get answers to common questions:
How do I overcome nerves and fear of presenting?
What if people don't respond, don't pay attention, or react negatively?
What can I do NOW to improve my presentation and influencing?
Eve will help you develop skills so you can:
Influence effectively and discover what turns people off
Communicate clearly, naturally and assertively – not rambling, aggressive or non assertive
Learn about body language and how to read it, use it and impress with your own body language
Develop a strategic approach to influencing and selling your ideas
Change your presentations from BLAND to GRAND so you amaze your audiences
Recognise when you are losing confidence and how to turn it around so you achieve success
Eve Ash will share best practice strategies to build a successful culture and help answer these common concerns:
How do I motivate my team if staff are negative and stressed?
How can I change the culture from blaming and defensive to problem solving and innovative?
These may be good ideas, but I already struggle with time and budget
Eve will share:
Strategies to energise the staff – including the psychological and physiological benefits of humour in learning and skill building
A practical systematic approach to understanding attitudes and how to overcome negativity
Team building strategies that are quick and effective
How to resolve and reduce conflict in easy logical steps
Best ways to give and receive feedback so people are less likely to feel offended or defensive
How to manage mistakes so people are inspired to improve and innovate
Sign Up To Receive Your Free eBook!
How to manage anger & abuse