Dealing with Difficult People Workshop
---
An intensive 2 Day Workshop
2016 Sep 26th & 27th, Pan Pacific Orchard Hotel, Singapore
2015 Oct 1st – 2nd, Hilton Singapore
---
Valuable take home communication skills to handling complainers
---
This interactive program provides techniques for everyone to use when dealing with challenging people and situations. This powerful toolkit of people skills will provide specific skills for immediate application back at work. Participants will learn techniques, see them in action and complete a number of activities, role-plays and skill building exercises.
You will be taken through a series of stages:
Problem clarity
Self-awareness and thinking patterns
Communication skills for complaints
Advanced skills for feedback and conflict
Challenge scenarios and skill building
Confidence to handle difficult people and situation
Skill Development
Develop skills and confidence to handle difficult customers and colleagues
Many people are challenged and uncomfortable dealing with difficult coworkers, staff or customers. It's normal! But lacking skills can hold you back from being a great service provider or a top leader. This workshop is a unique opportunity to develop skills for dealing with people problems at work.
Learn skills to become an effective communicator with difficult people
Develop powerful skills to deal with negativity, complaints and arguments, whether it be angry customers, moody colleagues, overbearing associates, manipulative personalities or uncooperative people.
Turn negativity into productivity!
Build confidence and skills to manage a wide range of difficult people and problem situations
Create a consistent approach to handling abusive people
Learn a range of practical techniques to manage conflict and maintain a high level of customer service
Practice techniques to respond calmly and professionally even when customers, coworkers or managers are stubborn, emotional or aggressive
Training Day 1
Understanding difficult people and causes of conflict
Self awareness and mindset management
Communication skills for handling complainers
How to handle difficult coworkers and managers
Training Day 2
Managing aggression and abuse
Skills for resolving and mediating conflicts
Being a calm champion of communication
My plan of action for future development
---
---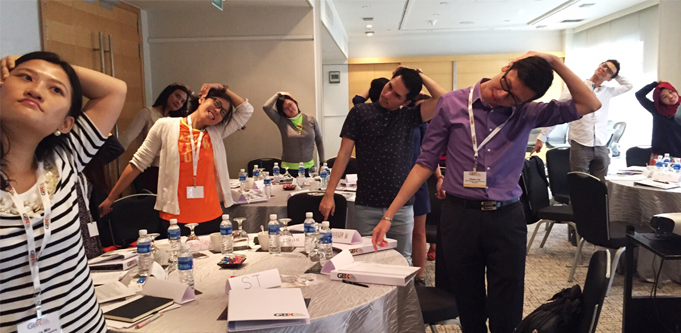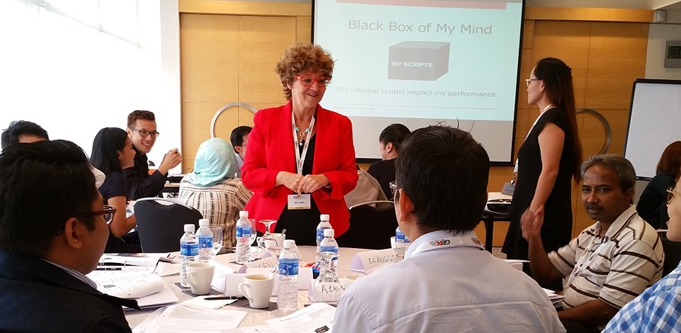 " Fantastic! Engaging & interesting videos. Was looking forward to everyone. The training is relevant to my role."
Suleman Head (Training) / Lead Instructor, Outward Bound School
" Eve Ash with very approachable, her methods are practical and her delivery clear and effective."
Kris, Manager, Ministry of Education
" A very creative workshop and Eve facilitated the program very well"
Priscilla Tok, Manager, Pattonair Asia
" Very effective learning through the latest video training clips and plays to reinforce dealing with difficult people concepts and ideas."
Sufandy, Executive, Raffles Country Club
" Valuable take home communication skills to handling complainers, resolving conflict and managing difficult colleagues"
Lee Wern, Manager Cerebos Pacific Limited
" Eve Ash is very motivated to transfer concepts and ideas to all the trainees. Thank you!"
Phang, Senior Marketing Executive, Manager, Capitaland Retail Management
" Thank you very much!! I learnt a great deal and it open my eyes to strategies and perspectives that had occurred to me before"
Evelyn Ng, MSO, Ngee Ann Polytechnic
" Eve Ash is very experienced and cheerful, She makes the course lively and interactive! My job requires me to deal with difficult people everyday and I learned alot here."
Lim Guat Khim, Manager, National Environment Agency
" The course is filled with powerful and cutting edged training videos that trainees could relate to unlike alot of other courses using outdated 20 year old videos. Thank you Eve!"
Jess Yao, Procurement Advisor, Infineum
" Eve is very professional and helpful. She delivers what she was expected to deliver with alot of extras! Thank you!"
Sharon Lau, Kemin, APAC IT Support Manager
" Fantastic dealing with difficult people tools for my staff and tools for them to implement at work"
Fazli, Team Manager, National Youth Council
" I learned how to identify different types of difficult people and how to deal with each personality"
Edmund See, Executive, National Environment Agency
" A very good and concise program to handle interpersonal relationships, both on a personal and work basis"
" This is a vital course that taught not only tactics to deal with others but also to look at oneself"
" Interesting and interactive with roleplays."
" Lots of fun and laughter"
" Inspiring and very motivating. I love the course and will be able to apply to everyday life"
" Eve is a role model and inspiration"
" Lively and very engaging"
" Step by step approach. Funny videos, really engaging and educating"
---
---
NOW READ: How do I manage the blamers and complainers?
NOW WATCH: Handling Anyone Difficult, Managing a Complainer, Difficult People and Situations Series